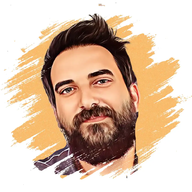 Hi 👋, I'm Adriano Amalfi, welcome to my personal website!
👨🏻‍💻
I'm glad you're here.
This site has been online since 2005 and has stopped and evolved over the years to become a personal blog with news and stories about a variety of topics.
Strategy, Technology, Ethics, Innovation, Diversity & Inclusion, Digital Transformation, Programming, Self-hosted Apps, Cloud & DevOps are just a few of the subjects you'll find covered here.
But it's not all work and no play. You'll also find personal tidbits like photos, travel stories, and even some videogames-related content.
I hope you find something of interest on my site. Thanks for stopping by!
Thanks for taking the time to learn more about me. I hope you find my blog interesting and informative.
Who am i
Since 1999 I've been working in Information Technology within the Financial Services.
Follow me on LinkedIn
My experience includes ICT Strategy, Innovation & Digital Transformation, ICT Governance, Risk e Compliance (GRC), End User Services and Datacenter Administration & Operations.
Meet people like you
Join a community of other subscribers who share the same interests.
Signup Newsletter
🎙️
Please note that the opinions expressed on this site are my own and do not necessarily reflect the views of my employer or any other organization I am affiliated with. The content on this site is intended for informational and entertainment purposes only and should not be taken as professional advice.
🎙️Opinions expressed on this site are my own
I encourage open and respectful dialogue, but I also reserve the right to moderate comments and remove any that are inappropriate or violate the site's terms of use.
Thank you for understanding that the views expressed on this site are my personal opinions and do not necessarily reflect the views of any other individual or organization.
🍪 Cookies Policy
We use cookies on this site to enhance your user experience and to help us understand how our site is being used. These cookies are necessary for the proper functioning of the site and do not contain any personal information.
We also use a self-hosted analytics service to monitor simple site statistics. This service collect data in an anonymous form, including the number of visitors to the site, where visitors have come from, and the pages they visited.
If you have any questions about our use of cookies, please don't hesitate to contact us. Thank you for visiting our site!